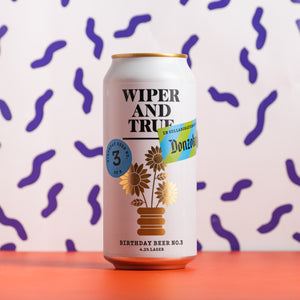 Wiper & True x Donzoko | Birthday Beer No. 3 | Lager | 4.2% 440ml Can
Wiper and True
From Wiper & True: 
Brewed using a traditional German step mash AND a decoction mash to extract maximum flavour from the malt base, we really doubled down on technique and historic methods for this beer. But what on earth are step and decoction mashes?

A step mash is a traditional German method of brewing a Helles, where the temperature of the mash (the mixture of water and malt) is slowly increased, to allow for the extraction of different sugars. The slow, elaborate process brings out additional characteristics from a malt bill, but due to its fiddliness, is not a process typically used in modern brewing - a travesty!

The next stage in the process is the decoction mash. Here, we take a section of the mash and boil it to initiate the Maillard Reaction: the chemical reaction which - in very simple turns - makes caramelised and browned foods taste sweet or 'baked'. We then re-combine this extra-caramelised, extra-delicious portion of malt, and continue the brew.

Overall, you can expect beautifully complex notes of lightly caramelised bread crust, showcasing a touch of sweetness. For a distinctly non-traditional twist, we added 150kg of buckwheat (25% of the total malt base), which creates a totally unique, nutty flavour that sits really prominently in this beer. Finally, a gentle 10kg of Hallertauer Tradition hops help keep things balanced, with a touch of grassy bitterness.