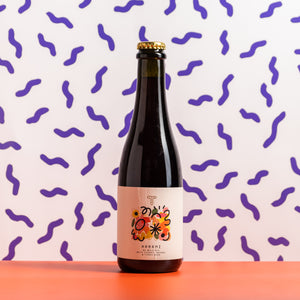 Track Brewing Co | Hanami Barrel Aged Wild Ale | 7.0% 375ml Bottle
Track Brewing Co.
BA Wild Ale - Cherry, Orange Zest & Tonka Bean
A blend of two-year-old beers from two pinot noir barrels make up the base which was then aged on 200 g/L of sweet cherries for three months and on orange zest for a short time. You'll find notes of vanilla, cherry jam and the pithy zip of freshly cut orange. Good acidity and a full body with a vinous, dry finish make this feel more like a wine on the palate with lingering hedgerow fruit and subtly spicy aromatics.