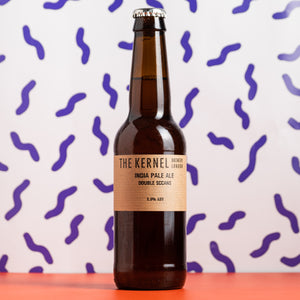 The Kernel Brewery | Double SCCANS IPA 8.9% | 330ml Bottle
The Kernel Brewery
From The Kernel...
"Simcoe, Citra, Columbus, Amarillo and Nelson Sauvin.

This Double IPA has remained close in recipe and intention to our previous Double IPAs. In the modern beer vernacular we have seen beers of this style now termed 'West coast', 'old school' or even 'classic'.

How a brewery configures the drinkability of its beers is always one of the most important questions, and it is the starting point for us almost especially in brewing a Double IPA. We have tried to make this super clean, lean, dry, bitter, but all integrating towards where we would like the balance to be.

Of course it is fruity and hop forward also, but again balanced. This is most apparent in the aroma, which is citrus, stone fruit and the touch of dankness. Columbus and Simcoe most prevalent here, as they also have become signifiers of the West Coast style.

Flavour pivots towards marmalade, oranges then pine, citrus peel and citrus pith into bitterness. The body is light, dry, clean, clear (Californian Ale Yeast)."