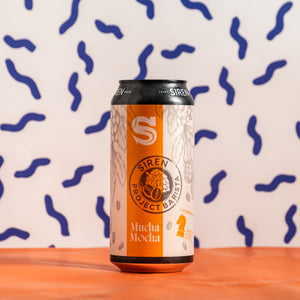 Siren Craft Brew | Project Barista: Mucha Mocha | Imperial Coffee Stout 10.0% | 440ml Can
Siren
PRE-SALE - THESE BEERS ARE STRICTLY RELEASED ON SATURDAY 25TH SEPTEMBER. THEY WILL BE DISPATCHED FOR LOCAL DELIVERY THEN.
All Good Beer is proudly one of the exclusive venues launching this years Project Barista!
Siren says...
"Project Barista wouldn't be complete without a showstopper. Although it's fun to experiment with using coffee across all styles, it would be silly to try and deny it's amazing in big stouts. As the name might suggest, cacao is making an appearance here in this indulgent beer, along with a generous pinch of vanilla. Undoubtedly though, this is a coffee beer. The beans were selected with the help of Quarter Horse who work with us on all our barrel aged coffee, this particular Brazilian variety being aged in our former Buffalo Trace bourbon barrels. The coffee itself is sweet, with chocolate, roasted almond and peanut butter vibes, plus the ageing process adding caramel, oak and whisky character. When adding barrel aged coffee we always use half beans and half ground, helping to lock in the barrel flavours. In terms of additions - all of them. Yep, coffee has been added at every stage of this brew, from both mashes onwards. Mucha Mocha is rich, with a slick sweetness and thick mouthfeel. There's an intense depth of flavour and complexity, with something different coming out of every sip, especially as it begins to warm in the glass. It's everything we look for in a Project Barista stout, and we hope you love it."