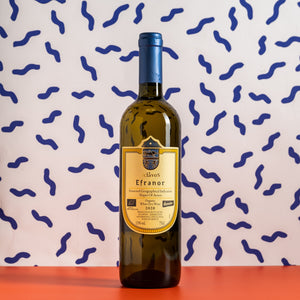 Sclavos | Efranor White
Greece
Regular price £20.00 Sale
The first of (hopefully) many Greek wines to grace our shelves! 
This wine is spicy and unusual; dry on the palate and with strong aromas of citrus fruit and wild flowers on the nose. The balance between the Moschatela and Vostillidi grapes leads to an elegant yet structured acidity - an ideal pairing to a festive cheeseboard or platter of shellfish. 
Knock it back and fondly (?) reminisce on summer 2021, when Greece was one of the few places we could actually go.  
Origin: Cephalonia, Greece
Grape: Moschatela, Vostillidi
Vintage: 2020
ABV: 13%
Bottle size: 750ml