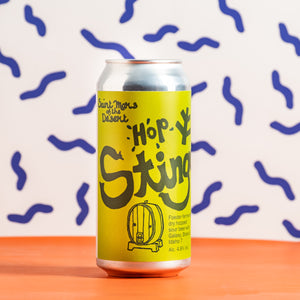 Saint Mars of the Desert - Hop Stingo Sour Beer 4.8% 440ml Can
Saint Mars of the Desert
HOP STINGO is the latest in our stingo line up.

Fermented in our oak foeder, first with lactobacillus, producing a stingo sourness, then dry hopped abundantly with Galaxy, Bravo and Idaho 7. We then allow the beer to cool, which allows regular yeasts and Brettanomyces to kick in, fermenting out very dry and adding a lot more aroma. Finally, we put the beer into a secondary fermentation with eeeeven more hops!

The result is a very pale, very dry, soft beer with tartness and a ton of hop character. It's a lot like drinking an IPA, except it's super zingy!
Vegan Beer.