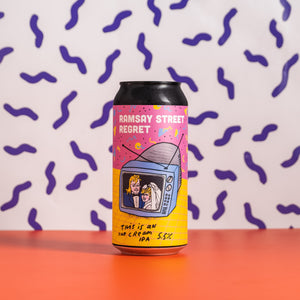 Pretty Decent Beer Co | Ramsay Street Regent | Oat Cream IPA | 5.5% 440ml Can
Pretty Decent Beer Co
From Pretty Decent...
"Smoother than Karl Kennedy. Softer than Harold Bishop's heart. More flavour than Lance Wilkinson.⁠
⁠
The news that Neighbours is gone 1 MONTH FROM TODAY is not the news we needed in 2022...⁠
⁠
Super exciting hop bill on this one - Citra in the whirlpool, followed by Talus Cryo dry hop during fermentation, and a post-fermentation load of Idaho Gem and new kid on the block HBC 630 (catchy name right?!) bringing a touch of berry on top."