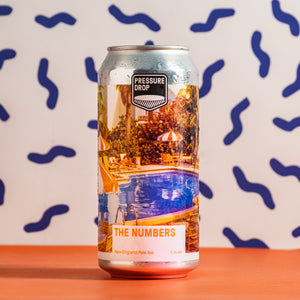 Pressure Drop - The Numbers DDH Pale Ale 5.2% 440ml Can
Pressure Drop
Soft and gentle as a warm summer's breeze, The Numbers is the newest member of the Pressure Drop low-bitterness, double dry hopped, pale ale family.
Packed full of ripe fruit aromas, thanks to the Bru-1 and Amarillo hop profile, this is pale ale luxury. Full-bodied and hazy, if it were a person, The Numbers would definitely wear a kaftan. It is a lose-track-of-time, sunburn on your nose, lazy day kind of beer. Throw on your most fabulous gold jewellery, grab a sun lounger and kick back with The Numbers.
For the label artwork, we scoured old postcard images from yesteryear, in search of all that was rich, sun-drenched, and a touch decadent. Win on The Numbers, and the Riviera comes to you.