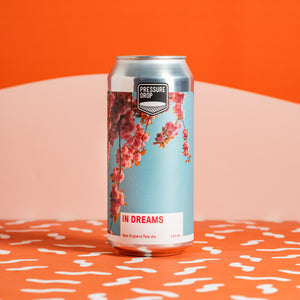 Pressure Drop - In Dreams DDH Pale Ale 5.8% 440ml Can
Pressure Drop
From Pressure Drop:
Our Dream pales are all about embracing your soft and romantic side. Play your favourite love songs, look at some flowers, read a poem and bask in the gentle fruity Idaho-7 & Mosaic hop aromas of In Dreams.
We try and keep the ABV of these New England pales below 5%, to keep things breezy and light. With oat in the mash for that creamy body-ody-ody, and London Ale yeast working its hazy magic, In Dreams carries you along in a soft juicy cloud.
Label artwork is by our Sales, Marketing & Dreams Co-ordinator Sienna, featuring the world famous Tottenham Hale cherry blossoms in the spring sunshine.
Sprinkle stardust & dream.