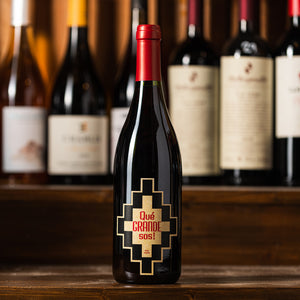 Pol Opuesto Wines - Qué GRANDE Sos!
Argentina
Regular price £19.00 Sale
ORGANIC
Tasting notes have a hypnotic power of suggestion... I prefer not to tell others what they'resupposed to taste as they try my wines.
Origin: Mendoza, Argentina
Vintage: 2017
Grape: Field blend of inter-planted Criolla Grande, Muscat (White & Pink), Criolla Chica (aka, País, Mission), the Cereza grape, Tempranillo and Bonarda.
Food Pairing: Happy without food, or try with Conejo en escabeche (rabbit, onions, carrots and herbs preserved in vineger and olive oil), Chorizo, grilled vegetables, or Bondiola de cerdo (braised pork shoulder wrapped in bacon).
Bottle Size: 750ml
ABV: 11.5%