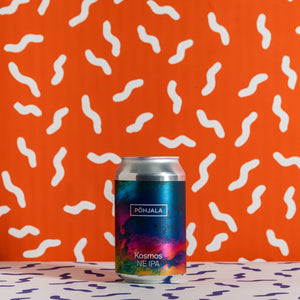 Põhjala - Kosmos IPA 5.5% 330ml Can
Põhjala Brewery
An intergalactic IPA brewed with huge amounts of Citra and Mosaic.
Taste: Sweet hops dominate, with a light malt backbone underneath. Tropical fruits and fresh citrus make up the bulk of this nectar like beer, with juicy notes and a low bitterness clearing the way for another glass.
Appearance: Hazy yellow with a white head.
Nose: Huge notes of papaya, lychee, lime zest, and pineapple dominate, with a strong undercurrent of freshly picked citrus and passionfruit.
Malts: Pale malt, flaked wheat, flaked oats
Hops: Mosaic, Citra, El Dorado, Vic Secret
Translation: Space