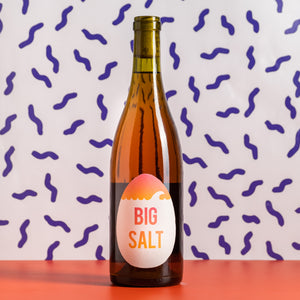 Ovum | Big Salt Orange Rosé
USA
Regular price £28.00 Sale
Its aromas remind one of an orange creamsicle stirred into a cup of hibiscus tea steeped with autumnal spices. There's a heavy dose of galangal and roasted carrot notes on the palate, which has the grip and power of a gravelly red wine.
What is an orange rose you ask? We don't know either. Big salt "orange rose" is nearly an
equal blend of ramato- style pinot gris (when pinot grigio grapes are crushed and the skins are allowed to spend time with the juice) and big salt, fermented and aged in neutral barrel. The combination of these production methods left us with a wine that doesn't look or smell like a rose – it isn't as funky or extracted as an orange wine – it lives somewhere in between...or beyond?
Origin: Oregon, USA
Grapes: 50% Pinot Gris & 50% Big Salt (Riesling, Gewurz, Early Muscat, Sauv + others)
Vintage: 2021
ABV: 13%
Bottle Size: 750ml