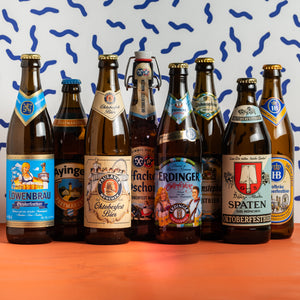 Oktoberfest Bundle
Oktoberfest
Regular price £29.00 Sale
Enjoy Oktoberfest in the comfort of your own home this year with a selection of 8 Festbiers brewed especially for the worlds most iconic beer festival.
Each bundle contains...
1x Weihnstephaner Festbier 5.8%
1x Ayinger Festmärzen 5.8%
1x Paulaner Oktoberfestbier 6.0%
1x Erdinger Oktoberfest Weißbier 5.7%
1x Löwenbräu Oktoberfestbier 6.1% 
1x Hofbräu Oktoberfestbier 6.3%
1x Spaten Oktoberfestbier 5.9%
1x Hacker Pschorr Oktoberfest Märzen 5.8%
Buying this bundle saves you 10% and we'd be happy to deliver it to your door.
PROST!