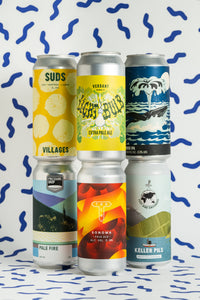 Mixed 6 Pack of Craft Beer
All Good Beer
Regular price £26.45 £20.00 Sale
With such a huge range of craft beers, we understand that selecting the best ones can be a little overwhelming. Thats why we've put together a mixed 6 pack of craft beers.  2 craft lagers, 3 craft pale ales,1 craft IPA. 
We've selected a range of styles to help you compare and contrast as well as picked 6 different UK breweries. The beers themselves are among our best selling beers as they are super tasty, reliability  
Villages - Suds Dry hopped lager 5.5% - Easy summertime lager, light bitterness with cirtus aromas
Lost & Grounded - Keller Pils 4.8% - Simple, Clean, unfiltered, hop bitter lager beer. 
Pressure Drop Brewery - Pale Fire 4.8% - Sessionable, with tropical aromas from the Mosaic and Amarillo hops, it is a juicy pale with a balanced bitter finish.
Verdant Brewing - Lightbulb 4.5% - Pale as 100W lightbulb but as juicy as an IPA. Sessionable, thirst quenching and totally additive. 
Track Brewing - Sonoma 3.8% -  Juicy, bright, dry pale. Tastes of sunshine with late citrus fruit aroma and finish
Howling Hops - House IPA 6.9% - Aromas of peach, orange and earthy fruits combine with the drinkable, not-quite-sweet body