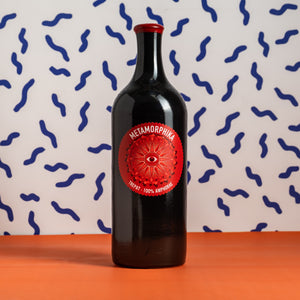 Metamorphika - Trepat Amphorae
Spain
Regular price £26.00 Sale
ORGANIC / LOW SULPHITES
Costa D'Or (or Costador) Terroirs Mediterrani are around 15 different plots, scattered
around Tarragona province, mostly centred around Conca de Barberà, with mountainous as well as Mediterranean influences. The soil around here is mostly calcareous and this limestoney minerality shines through in all of these wines. Costa D'Or farm all their vines organically, the only intervention in vineyard is the use of pheromones to repel pests, a little copper and sulphur if and when needed and sometimes the use of sodium bicarbonate to prevent powdery mildew.
Trepat, a relatively underknown variety, is indigenous to Conca de Barberà and with its long maturation period is very well suited to the hot dry climate. This, coupled with the high elevation for these two plots of old bush vines, means that Joan is able to push the extremes of ripeness and maturity for this wine. Harvest was not done until the 7th October. The resulting wine is mature, ripe and complex yet still retains a great level of acidity and balance. Grapes are partially destemmed and macerated for 3 months in a 3000 litre amphora before being pressed off and passed back to amphora for a further ageing of 5-6 months before bottling.
Origin: Catalunya, Spain
Grape: Trepat
Vintage: 2018
ABV: 
Bottle size: 750ml