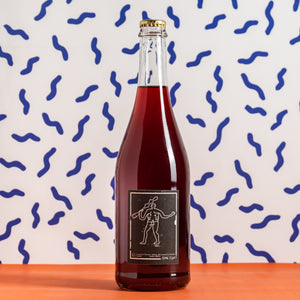 Melbury Vale - MV01
Melbury Vale
Regular price £24.00 Sale
Winemaker Clare Pestell at Melbury Vale had been struggling to decide what to do with a rogue barrel from her 2018 vintage. Our pal Daniel Ham from Offbeat suggested to Clare that the base wine still had enough yeasts present that it might do well as a Col Fondo.
Whilst the base wine was conventionally produced, it had developed into such a wild and wonderful animal after 18 months under cap that a second fermentation was enough to produce a wine that demanded attention.
So it was that the experimental cuvee MV01 found its way to our door, with an accompanying letter suggesting we might be the people to find this orphan wine a home. 
Tasting somewhere between great Lambrusco & a gnarly sparkling Grolleau, we welcome MV01. A true one off, we have limited quantities available, this one won't hang around long. 
A Col-Fondo style blend of Triomphe d'Alsace, Dornfelder, Rondo & Pinot Noir from the chalk hills of Dorset, picked in 2018. The wine was spurred into a second fermentation with just a little sugar and an offering to Dorset's own Cerne Abbas Giant this winter. 
Hopefully he won't get himself blocked from instagram posing without his trousers on but at least he agreed to lend his image to this bottle from his home turf.