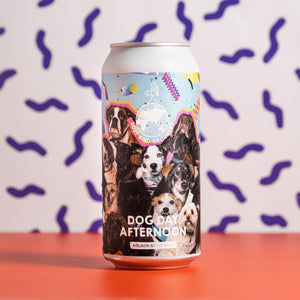 Lost & Grounded | Dog Day Afternoon Kölsch-Style Beer | 4.8% 440ml Can
Lost & Grounded
From Lost & Grounded: 
"….refers to those hot, sleepy afternoons when dogs (and people) prefer to lay around and languish in the summer heat."
What an incredible day we had celebrating our doggy pals and now the beer is ready, an über-refreshing Kölsch-style beer!
Brewed using a base of Pils malt with hop additions from Magnum, Perle and Zuchstamm for a hit of citrus flavours and aroma. Gentle notes of freshly cut grass lead to a crisp bitter finish, giving an edge to our version of this traditional lager/ale hybrid, native to Cologne.
In true Lost and Grounded style we've once again included all of our doggy superstars to feature on our limited edition series of six cans, with 10p per can being donated to our chosen charity StreetVet.
A huge thank you to Barth Haas X for sponsoring this beer with their donation of hops.