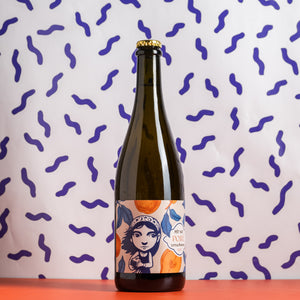 Little Pomona | Pét Nat Poiré 2020 | 6.6% 750ml Bottle
Little Pomona
Regular price £16.00 Sale
From Little Pomona: 
We were very thrilled to get hold of three varieties of French perry pears in 2020, grown by our friend Stephen Ware at Throne Farm in Weobley.
We stored handpicked Longbois, Faucett and Antricotin in approximately equal quantities to let them fully ripen, before milling and macerating for 48 hours. After pressing they were sent to tank to ferment spontaneously, before later bottling as a pét nat. No additions.
The result is a sleek, elegant perry that oozes creamy ripe pear fruit – the whole fruit that is,  including skin and core – along with distinct lime leaf, aniseed, kiwi and melon. Subtle tannins, gentle sparkle and soft acid rounds everything out perfectly.