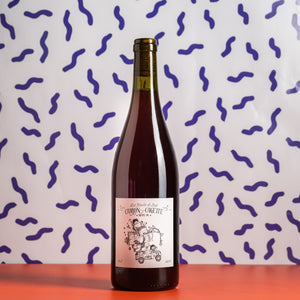 Les Gaules de Bois | Camion Cagette
France
Regular price £21.00 Sale
Every year, Vincent Alexis and his friend/sideman at Chateau Barouillet; Romuald Cousy take a trip to pick grapes from near and far for their Gaules Des Bois side-project: making juicy, light reds that can be harder to come by in Bergerac.

Making just one cuvee each year, for 2021 they travelled to Beaujolais to pick Gamay, Minervois for Grenache, and Merlot from Romuald's parcel in Bergerac. As Vincent likes to joke: 'a real Tour de France!'

Each variety had about a weeks carbonic maceration in stainless steel, before blending and bottling unfined, unfiltered, and with no sulphur. Camion Cagettes is one to pop in the fridge: crunchy and bright fruited.
Origin: Beaujolais, France
Vintage: 2021
Grapes: Gamay, Grenache & Merlot
ABV: 11.5%
Bottle size: 750ml