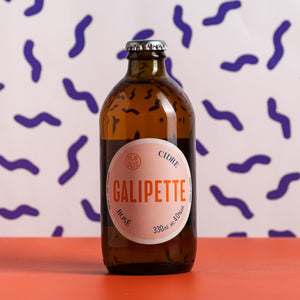 Galipette | Rosé Cider | 4% 330ml Bottle
Galipette
From Galipette: 
GALIPETTE ROSÉ is our newest cider. Made with rare, red-fleshed Pommes à Chair Rouge, it has real rosé character and taste, and a deep amber colour that naturally varies with each harvest.
These red-fleshed apples, native to the orchards of Brittany and Normandy, are known for their fresh acidity and for the high concentration of natural red pigments not only in their skin, but in their flesh, which creates the unique, all-natural colour.
The centuries-old process of keeving prevents the wild yeast of the apples from fully fermenting the juice and so maintains its natural and fruity sweetness; this is a strikingly refreshing cider. Savour its fresh, bright acidity and satisfying taste all summer long, or let it help you dream of long summer days to come.