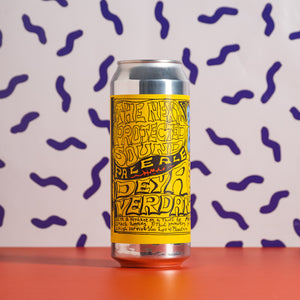 DEYA X Verdant | The Next Projected Sound Pale Ale | 5.5% 500ml Can
Deya Brewery
From DEYA...
"VERY exciting collab with our friends at Verdant Brewing Co.
There is quite a lot to say about this beer, here it goes...

There are flavour compounds called Thiols, there are many types of Thiols. Some of them are really nice. They smell like passionfruit, pineapple and other ripe fruit. Certain drinks contain a lot of pleasant Thiols, namely Sauvignon Blanc from the Marlborough region of New Zealand. Some creative people in New Zealand have developed a product derived from the skin of these grapes, that can be used as an ingredient in beer. This is called Phantasm. This massively increases the presentation of the aforementioned tropical fruit flavours and aromas. There are also certain yeast strains that have the ability to push these desirable flavours even further. We used Hop Unlock from WHC Labs to really amp up the tropical fruit experience in this beer. This beer has a huge juicy fruit aroma, ripe papaya, guava and white grape in the fore with some background bubblegum and candied orange. The finish is sticky and has a citrus sherbet tang."