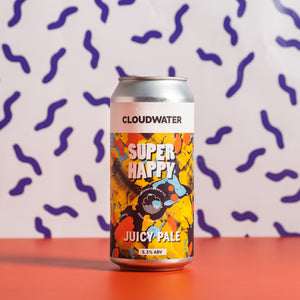 Cloudwater Brew Co | Super Happy! Pale Ale | 5.3% 440ml Can
Cloudwater Brew Co.
Cloudwater says...
"An amped-up twist on our popular Pale Ale Happy!

Guaranteed to put a smile on your face. This doubled-up version of our modern session Pale Ale will leave you twice as Happy! It retains all the drinkability of the original, while providing an even greater rush of fresh hop aromatics. Bright tropical fruits and juicy citrus carried by a smooth body and rounded off by a refreshing, dry finish."