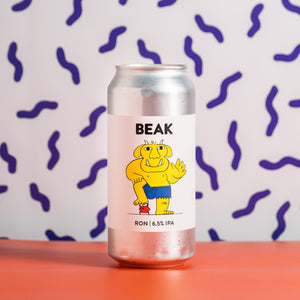 Beak X Allkin | Ron IPA | 6.5% 440ml Can
Beak Brewery
Beaks says...
"In July 2021, Good Things--a brewery just down the road from us--burnt to the ground after being struck by lightning.

These guys were going from strength-to-strength so it was a huge shock to us all.

Thankfully, they've been reborn as Allkin Brewing and earlier this month we joined forces to brew RON, a foggy-as-you-like wheat heavy IPA hopped with gargantuan amounts of Idaho-7 and Centennial for bold flavours of pineapple, rose, orange, pine and pink grapefruit."